FEMA Product Design
Developed a web app to facilitate grants management
With the U.S. Digital Service, I worked at FEMA, supporting their vision to unify 40 grants programs and 10 legacy system into one new platform. This project was huge, and we quickly learned that it needed to be tackled in pieces. At the same time, we needed to focus on building the capabilities of the team, so that they could carry out this work. Our hypothesis was simple - a strong design process will help us build an efficient grants system that FEMA can use to improve resource distribution, making us more prepared for disasters.
BRIEF
Design a product for flexible grants administration.
Timeline
March 2018 - September 2018
Team
Served as design lead overseeing multiple cross-functional teams of developers, business analysts, and designers.
Services
User research, facilitation, stakeholder management, UI design, usability testing
Approach
User research: we spent time on both sides of the application process. Primarily, we worked with firefighters requesting grants from FEMA. We also worked with the government stakeholders who evaluate those forms.
Analysis: we synthesized the research into themes, developing personas, journey maps, and other design artifacts.
Facilitated prototyping: we worked with stakeholders to co-design solutions.
Usability testing: we went back to see what worked and what didn't. Our most common request was to bump up the font size.
Implementation: cross functional teams built out the interface.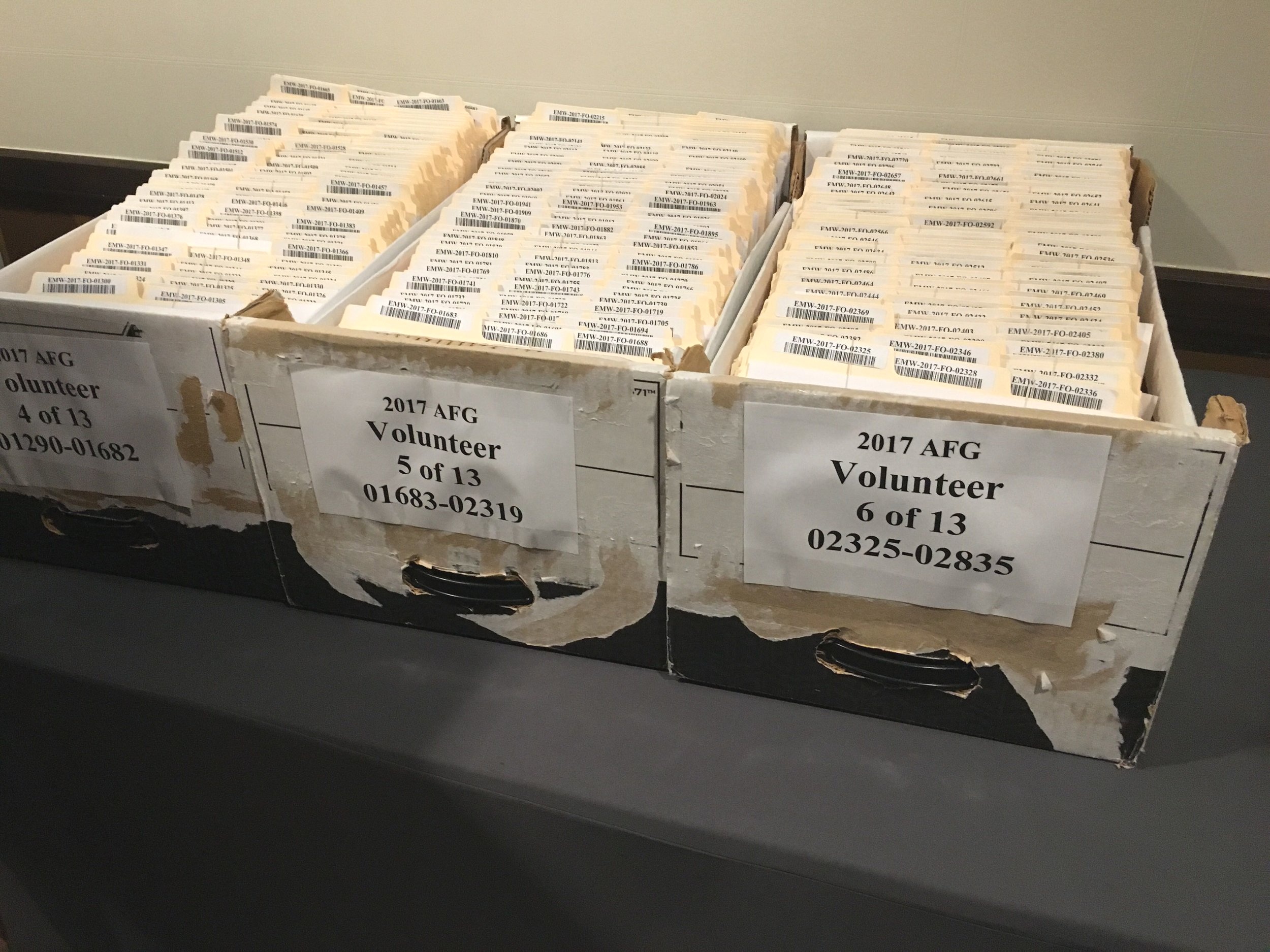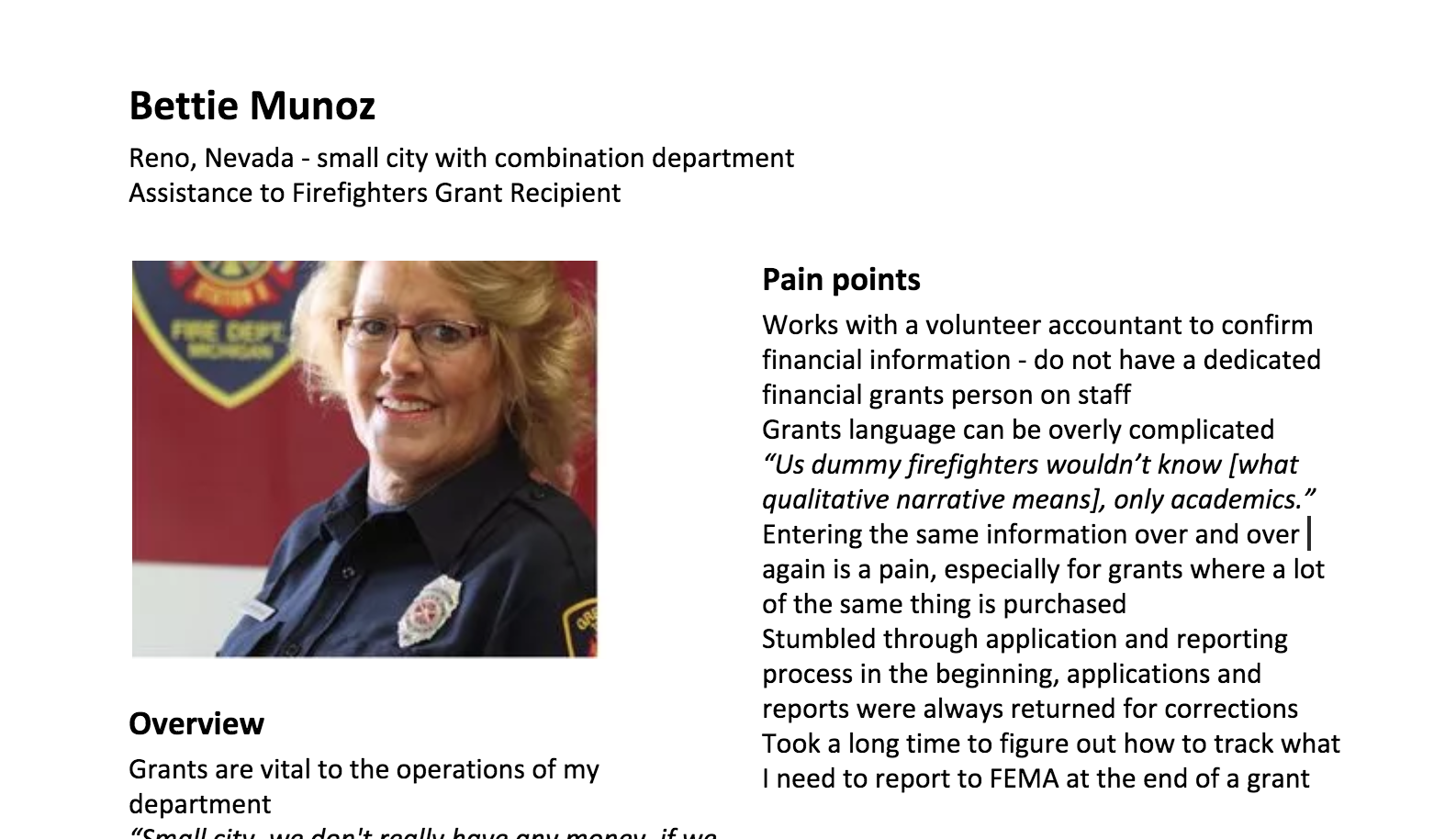 SOLUTION
Part of the application focuses on how folks evaluate grant applications. These users are different for each program, they may be volunteer firefighters or seasoned FEMA experts. Despite their differences they have a few things in common:
They want to conduct application reviews in their own way

They ask for help or a second opinion when they need it

They want to feel connected to the mission
With these insights, we redesigned a very paper intensive process to a simple, digital interface.
Users are free to navigate and score the application as they see fit - the interface is not prescriptive or restrictive.
The three sections scroll independently:
Left navigation expands and collapses

The center content expands to full screen

The right scoring panel expands and collapses
When they need help, reviewers walk up to each other or sent messages to ask questions. Rather than changing that behavior, we decided to incorporate a simple bookmark to serve as a reminder to come back later.
Between reviews, users can view a dashboard to see their progress and what the grant money they approve will be used for. It's a simple way to help reviewers connect to the mission and stay motivated.
Outcome
As the team continues to build out sections of the system, I am focused on ensuring this process is repeatable. We have led workshops and trainings to boost the skillsets of junior designers and business analysts. I spend a lot of time socializing results to our stakeholders to make space for the teams to execute a user-centered design process. To this day, we continue to hear "there isn't enough time to do research." In those instances, we bring up the positive feedback we get when we follow this process:
Whoever decided to take the initiative to redo these forms, good job. You guys are doing one heck of a good job with the user experience. Also, keep in mind that firemen are doing these. Keep it firefighter simple and follow the 3 a.m. rule - the dumbest guy at 3 a.m. should be able to do this just as well as the smartest guy at 3 p.m. It looks really good.